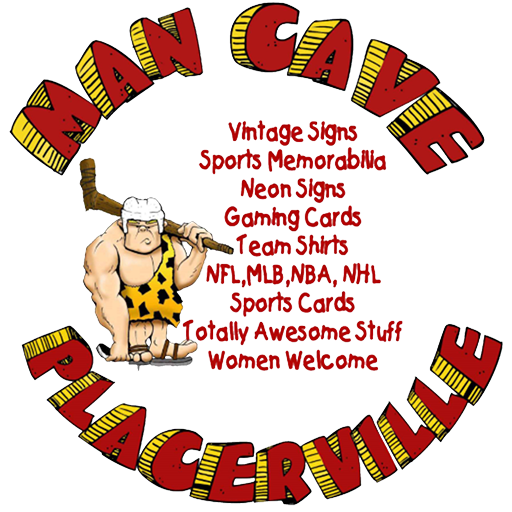 THE MAN CAVE | MAIN ST. PLACERVILLE
Man Cave Placerville, your local guy's store with Autographs and Lithos. Neon Signs, New and Vintage signs, Sports & Magic cards. NBA, MLB, NFL.
Man Cave Placerville, is your one-stop-shop for all sports pictures & memorabilia in El Dorado county. I have the largest collection of SF Giants, SF 49ers, Oakland A's, Oakland Raiders, and Magic the Gathering in all the foothills. If it's sports cards you are looking for I have; all the latest 2014 Baseball, Football, Hockey, and Basketball Cards by the thousands with the only shop in the area. I do my best to have what my customers want. I just started stocking Liquid Blue custom shirts for the local teams and most other teams. Special orders can be placed for fans of different out of area teams. I find some of the coolest items for my customers and in turn, they bring in very nice collectibles that I buy and sell to other fans. I call the store the Man Cave Headquarters because I do not have a cave at home. This is my cave designed for the sports fan. Need something for a gift and I will work with you to make it special.
LOOKING TO SELL YOUR COLLECTION?
CALL TOD TODAY
We buy, sell, and trade for your Sports Memorabilia, Sports Trading Cards, and much more. Give me a call today.